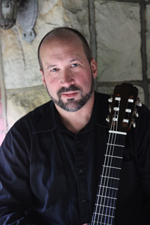 Bio
As a Classical Guitarist, Vocalist, Composer, Pedagogue, Producer, Audio Engineer and Author Thomas Kikta is a versatile artist who has been the director of the Classical Guitar and Recording Arts and Sciences at Duquesne University in Pittsburgh, PA. for thirty years.
A native of Pittsburgh, he studied Classic Guitar performance with Aaron Shearer at both the Peabody Institute of the Johns Hopkins University and at the University of North Carolina School of the Arts. He has performed around the country, including collaborations with the School of American Ballet at Lincoln Center, Ricardo Cobo, Manuel Barrueco and for such dignitaries as Maya Angelou and Toni Morrison. As an audio engineer and producer Mr. Kikta's credits include The New York Philharmonic, Pittsburgh Symphony, Visa /Mastercard, Seth MacFarlane/Family Guy, Cartoon Network, Boomerang, Dr John, MCG Jazz, BMG Classics, Leonard Bernstein, Pepe Romero, Sean Jones, Jacob TV, Jeff Bergman and the New Century Saxophone Quartet, to name a few. As an artist on the Alanna Records Label he is a writer and performing member of the duo group "Colourtime Project".
After working closely with Aaron Shearer for over 28 years, he with Mr. Shearer coauthored the 3rd edition of the best selling and benchmark work "Classic Guitar Technique Vol 1" published by Alfred Publications, which was nominated for "Best Instructional Book or Video for 2009" by Music and Sound Retailer. He was invited to write "The Complete Idiots Guide to Classical Guitar Favorites" which was published by Alfred Publications in 2010. This work provides supplementary lessons to 30 favorite selections for a student working with a method book. It also gives historical perspective to the composers and selections with fun facts and a guitar historical time line. His most recent works are "The Shearer Method Classic Guitar Foundations", "The Shearer Method Classic Guitar Developments" and "The Shearer Method Learning the Fingerboard" all multimedia experiences with over 140 high definition videos, 150 new compositions by Alan Hirsh, active online support and new writings by Aaron Shearer prior to his passing in 2008. Published in cooperation with The Aaron Shearer Foundation and Alfred Publishing this book stands out in starting the student to read and play while following a graduated step-by-step curriculum that supports positive habits for efficient study. Mr. Kikta has also written for Alfred's Masterwork Editions, Carcassi: Melodic and Progressive Etudes Op.60 (2016) exploring the fingerings, lessons and performance notes from the perspective of Aaron Shearer's teachings.
Mr Kikta is also active in the dance community working for Twyla Tharp, Hubbard Street Dance, Lynn Stanford, Pittsburgh Ballet Theatre, North Carolina Dance Theatre, and The New York Choreographic Institute. In 2014 The School of American Ballet at Lincoln Center commissioned Kikta to write the music for a new ballet. The ballet "Inverno" premiered at Lincoln Center for the 2015 Winter Ball; featuring 20 dancers and choreographed by Peter Walker, it set the record for funds raised at an SAB gala event. In 2016 Mr Kikta has been commissioned to write a ballet for The New York City Ballet, again paired with Peter Walker, the ballet will premiere at Lincoln Center at the Fall Gala event and will continue to be performed in NYCB's 2016-2017 season.
As an Alanna Records Recording Artist, Thomas Kikta has recorded on numerous internationally released albums with the New Century Saxophone Quartet, Stephen Pollock, Amanda Ford, and Ken Karsh. Working with six time Grammy Award winning engineer Jay Dudt, Kikta wrote, performed and produced the 2015 released album 2Believe with the Colourtime Project, winner of Best Jazz Album and Best Music Video by the Akademia Music Awards.
As Vice-President of the Aaron Shearer Foundation, Mr Kikta lectures around the country at conservatories, conventions and music festivals including "The Shearer Summer Institute at Zion National Park", a weeklong festival that combines guitar and the love of high country hiking into one amazing event.
Thomas Kikta is an artist endorsee for Alfred Publishing, Alhambra Guitars, D'Addario Strings, Line 6 and Fishman Electronics. As a Co-founder and Board Chairman of the Guitar Society of Fine Arts, Pittsburgh audiences enjoyed a decade of world class guitar music as well as free music lessons for underprivileged children. Thomas Kikta along with members of the Shearer family founded The Aaron Shearer Foundation, an organization dedicated to preserving and propagating the teachings and legacy of the revolutionary guitar pedagogue, Aaron Shearer.